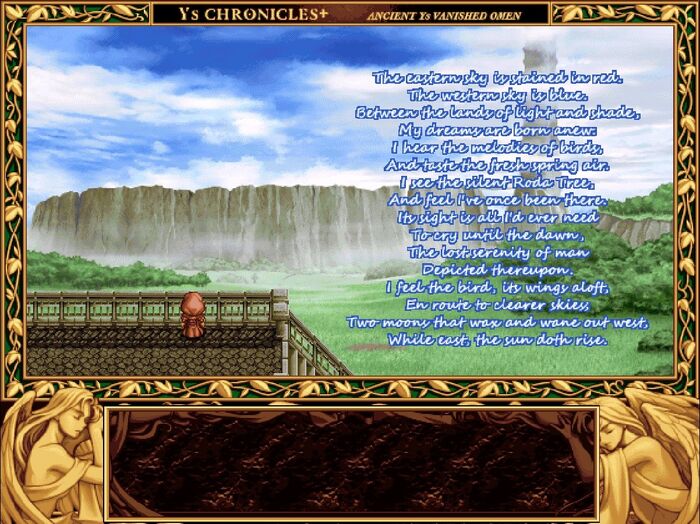 The eastern sky is stained in red.
The western sky is blue.
Between the lands of light and shade,
My dreams are born anew:
I hear the melodies of birds,
And tastethe fresh spring air.
I see the silent Roda Tree,
And feel I've once been there.
Its sight is all I'd ever need
To cry until the dawn,
The lost serenity of man
Depicted thereupon.
I feel the bird, its wings aloft,
En route to clearer skies,
Two moons that wax and wane out west,
While east, the sun doth rise.
Восточное небо окрашено в красный.
Западное небо - голубое.
Между землями света и тени,
Мои мечты рождаются вновь:
Я слышу пение птиц,
И чувствую свежий весенний воздух.
Я вижу молчаливое Древо Рода,
И чувствую: я был там когда-то.
Этот вид - все, что мне нужно
Слезы до рассвета,
Потерявшего покой человека
Запечатлены на нем.
Я чувствую птицу, ее крылья расправлены,
На пути по чистому небу,
Две Луны, как воск убывают на запад,
На востоке же, солнце поднимается вновь.
Community content is available under
CC-BY-SA
unless otherwise noted.