Frieda (フリーダ?) is a female knight from the village of Danan who also serves as a storyteller. She has a homunculus fairy, Nina, as a partner and wields a halberd.
History
[
]
In Games
[
]
Ys: Memories of Celceta
[
]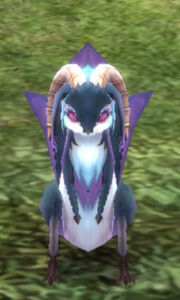 Gameplay
[
]
Weapons
[
]
Name
Stats
Price
Sells
Acquire
Ancient Halberd
STR 160
13000 G
3250 G
Initial weapon
Ancient halberd passed through the ages in Danan.
Great Halberd
STR 165
16000 G
4000 G
Store Purchase
Used by heavily-armored Romun soldiers. Very strong.
Incredible Icy Halberd
STR 170
Freezing 30%
–
–
Side quest Mega Weapon Test
Forged in Selray. Freezes all who bear it.
Cruel Axe
STR 171
Freezing 30%
17500 G
4375 G
Side quest Mega Weapon Test
Refined in Selray. Freezes all who oppose its wielder.
Rune Glaive
STR 210
20000 G
5000 G
Store Purchase
Double-edged sword glowing with holy power.
Elysium
STR 255
30000 G
7500 G
(Chest) Iris, The World Of Records
Halberd spawned from hell to admonish Darklings.
Echidna Halberd
STR 278
50000 G
12500 G
Side quest Legendary Weapon
Recreated using rare ore. Harvests the souls of foes.
full list -edit
Skills
[
]
Icon
Skill Name
Cost
Description
Hurricane Spin
10 SP
Spins halberd, aiming for the feet of surrounding enemies.
Fairy Strike
10 SP
Summons Nina to force a drop item from the enemy's grip.
Demonic Edge
10 SP
Uses fighting spirit to raise the party's STR.
Demonic Vortex
20 SP
Creates a vortex, drawing in enemies for multiple hits.
Cocytus Drive
40 SP
Creates a line of ice pillars to launch enemies upward.
Ice Javelin
20 SP
Fires a continuous barrage of ice pillars from above.
Icicle Drop
20 SP
Attacks with a block of ice from above. Causes Freezing.
Ice Pillar
10 SP
Summons a sharp ice pillar to launch an enemy upward.
Destruction Dance
40 SP
Swings halberd repeatedly, then launches enemies upward.
Phosphorous Moon
20 SP
Approaches foe, thrusting forward and launching upward.
Frozen Prison
Multiple EXTRA skills available, see this page for details
edit
Seal Fissure: Freeze cracks on the ground to allow passage.
Trivia
[
]